The sun was blazing hot for this shoot, it was ideal festival weather, not a muddy puddle in sight!
This shoot was just so much fun, so many bright colour and lots of glitter, which for all of those that know me well enough, know how much I would love this!  
The shoot was packed with so many local amazing suppliers, all based in Devon, you can see more about them below...
The venue was Higher Holcombe near Ottery St Mary in East Devon, an absolute gem of a place.  The grounds are stunning there are some beautiful locations to get married such as the Willow Cathedral and the Silver Birch Church, the old Dairy has been beautifully restored.  There are acres of land and a lovely house and some gorgeous teepees you can hire out too.  Its amazing and the owners are too, they are honestly a really lovely family and if you are looking to get married in Devon you need to check this place out!  
 Jo the owner will be more than happy to answer your questions or give you a tour
We set the ceremony images up in the Silver Birch Church which was just so beautiful.  Completed surrounded by nature and enveloped in to the silver birch trees, what a way to get married!  We used the funky ribbon bunting to line the aisles and it was a really effective way of injecting some colour.
The very amazing Danni from the Wed Hub in Plymouth, was the stylist for this shoot and she did such an amazing job.  Everything came together really well thanks to Danni's finishing touches. The dresses and the suit came from her shop. She created the bright and bold stationary and she made some amazing hula hoop backdrops for the table scape.  
You can contact Danni here for all your styling needs, she has so much wedding experience and is very helpful and friendly
On hair and make up duties we had the wonderful Ellie the Undo Girl and Becky Flynn.  I had followed Ellie for ages on instagram and loved her work so was excited to get her onboard and I was happy to discover Becky too, they made an absolutely amazing duo and did a really great job bringing our vision to life.  
The lovely dainty little hair pins pictured below in Lia's hair are from Pretty Pins Bridal  
The aisle was decorated with ribbon bunting and the most amazing pom pom back drop from the prop factory, we added some lovely bright rugs of our own as Lia was walking barefoot up the aisle.  
The stunning beaded sandals from the Lucky Sixpence are below, they really finished off the boho look we had planned for the day and they are so very pretty!  Janie makes a lot of beautiful jewellery and accessories with meticulous details, please check her out her lovely work
The rings are from the Molten ring Company based in Exeter, they have some really gorgeous jewellery available.  
The stunning flowers came from a lovely lady based in Exeter called Emma Hewlett, she created the most beautiful flower installations and this bouquet was just perfect.  It smelt and looked amazing, please contact Emma if you are looking for a wedding florist as she creates some real show stopping installations.
The celebrant's gorgeous pale pink vintage dress here is from a gem of a little shop in Budleigh Salterton, called Days of Grace, it is full to the brim with gorgeous vintage dresses for all sorts of occasions perfect if you are looking for something truly unique. 
The girls are wearing jumpsuits from Primark and have the little white flower pins in their hair too. 
Megan from Dainty Bakes made a lovely towering 3 tiered cake adorned with beautiful fresh fruit and flowers.  It was really natural but also bright and beautiful making it the perfect centre piece. 
Exquisitely detailed little biscuits, amazing colours and so lovely to look at.  Almost too good to eat but they tasted amazing too, a great find so please look Ramune up to see more amazing treats she has made.
Lia's amazing sparkly sequinned cape and matching head dress were made by Jo from Hoodlum.  I was blown away when I received these for the shoot, they were fantastic! Exactly what we were after and so well made. They looked absolutely stunning!
The coolest wedding transport, Vintage Camper Booths have a lovely little fleet of gorgeous vehicles with lots of extras like the glitter bar and funky photo booth.  We used Lottie their lovely VW bus and they have a few more to choose from.    
A lovely family owned business and if you want a VW for your wedding don't look any further!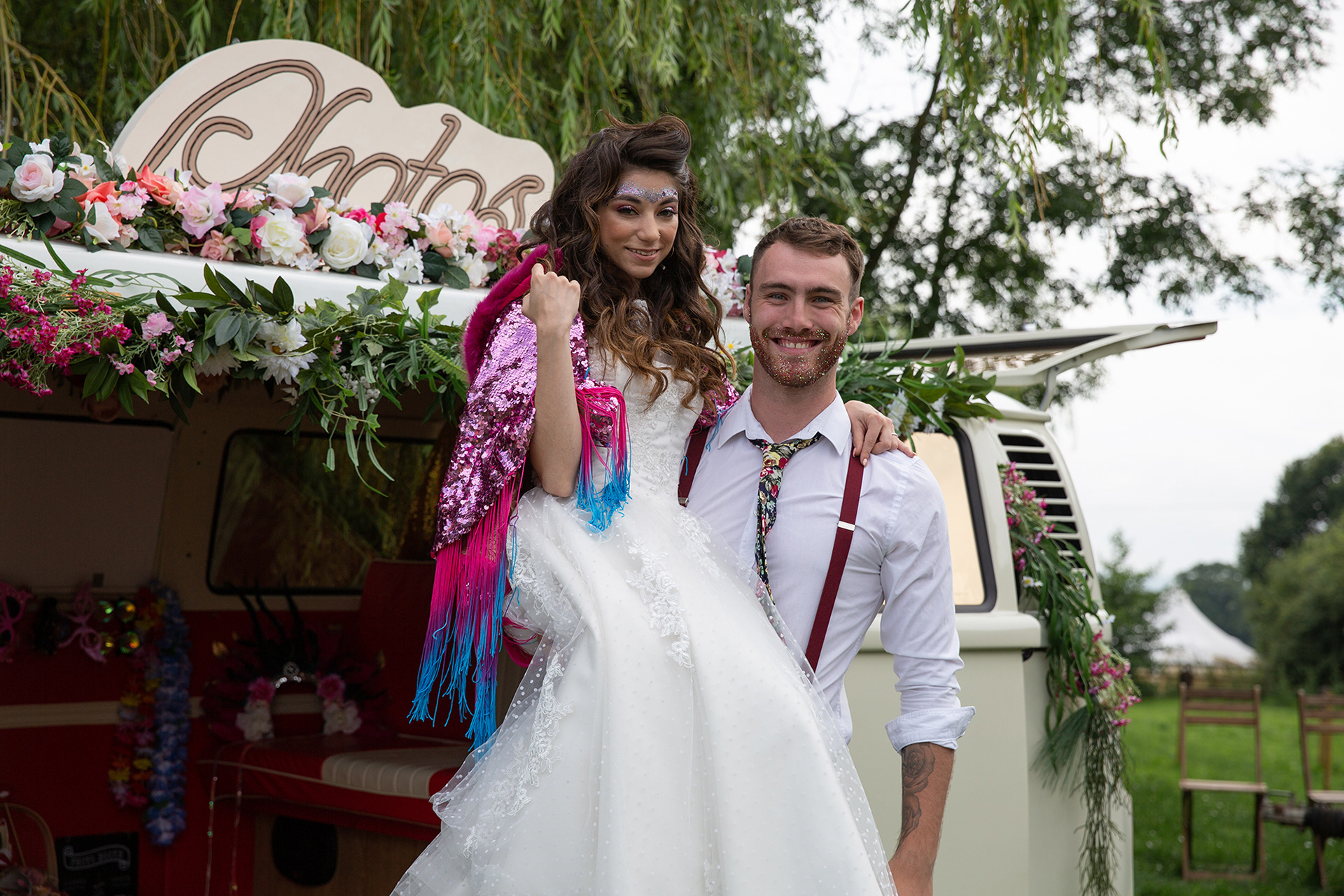 We were fed by the wonderful flour and flame mobile pizza van.  Really cool van and yummy pizza to keep us going for the day.  It was a such a treat for everyone involved to have Simon at the shoot cooking fresh pizza!    
Special thanks go to Lia Lakshmi and Brad Owen for being such great models, they were so much fun and made a very lovely couple!